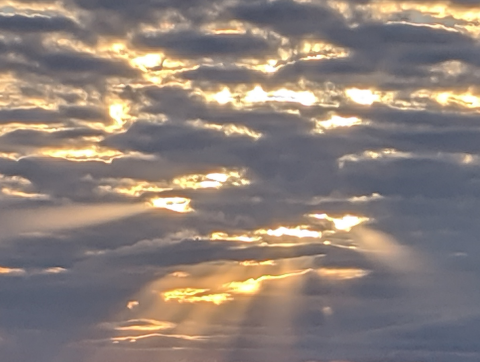 Oh, the depth of the riches
both of the wisdom and the knowledge of God!
How unsearchable His judgments
and untraceable His ways!
For who has known the mind of the Lord?
Or who has been His counselor?
Or who has ever first given to Him,
and has to be repaid?
For from Him and through Him
and to Him are all things.
To Him be the glory forever.
Amen.
Romans 11:33-36
I wrote in a previous post (post #6) how worship, our personal and individual worship centered on Him, must become a vital and essential part of our daily lives if we wish to go deep with God.  After reading my most recent post (post #7) that discussed practicing the presence of God as we go about our daily lives, do you see the connection between that and worship?  As you learn to practice the presence of God, as you find yourself more and more aware that in Him you live and breathe and have your being, worship will simply begin to become your usual and customary state of being.  How could it not?  More and more you will find yourself slipping into the spirit in worship.  More and more you will find yourself praying in the spirit (post #5) as you go deeper into worship and deeper into His presence.  Is that what you want?  Do you want your life to become so caught up in Him that all other things fade in comparison (post #3)?  If you are facing a crisis, fasting may help as you (literally) put your flesh to death, making it easier to hear from Him and align yourself with His will and His perspective (post #2).
I think I could keep writing on this subject forever.  With every post I write, I see something more that needs to be covered.  For instance, repentance is enormous when it comes to our relationship with our Lord.  I don't really want to write on that topic because, when pointing out someone's sins and wrong thinking, it is way too easy to speak condemnation and thus miss the point entirely.  Obedience is vital when it comes to going deep with God.  If we're serious about going deep with Him, He will challenge us.  We can expect Him to direct us and our lives in ways we don't necessarily like.  Am I willing to go where He wants me to go, do what He wants me to do, and speak the words He gives me?  Indeed, I'm writing this series out of obedience.  As I shared before, I'm really bad at applying the principles that have been laid out in this series.  Yet God was clear that He wanted me to write these posts, so here they are.  I hope they have made a difference in your walk with God.
Don't expect to step into a deep walk with God immediately.  In truth, this is a lifetime-long process.  And, really, it's a work that He is doing in us, not us doing in us.  Don't get me wrong, we can choose to cooperate with Him or not, but He isn't going to quit (Phil 1:6 and Isaiah 46:10).  Going deep with God is all about learning to know His heart.  Almost a month ago there was a little incident in our lives that I want to share with you.  I'm hoping you see a piece of God's heart when you read it.
A Homeless Man
Finally, the mask mandate has been lifted!  So, Ruth and I decided to celebrate by going out for lunch to a local restaurant that has become for us a favorite place to eat.  We had a couple of errands to run after lunch, and, of course, I turned the wrong way on the rather busy street that runs in front of the restaurant.  To turn around, I worked my way to the inner lane and turned into the parking lot of a pizza place, turned a 180, and pulled back to the entrance.  There was a group of homeless people close by waiting for the light to change so they could cross the street.  On the edge of that group one man in particular, his shoulders wrapped in a beat-up blanket, caught my eye.  It was lightly raining and he was holding one corner of the blanket over his head as shelter from the rain.  
I don't know what it is like where you live, but here in our city, homeless people are becoming quite ubiquitous.  They're everywhere and most of the time we just ignore them.  That's a really sad statement, but we are limited in both resources and ability and can't help them all.  Still, I try to keep my spiritual ears open just in case the Lord wants me to help someone in some way.  Generally, I never give money.  I much prefer to either take the person to a nearby eatery, or go get some food to bring back to them, or, if it's someone needing gas for their car, take them to the gas station and fill their tank.  Jesus said that we should "give to them that asketh of thee" (Luke 6:30) and we try to apply that principle when we feel the Spirit moving us in that direction.
That's what happened with that man in the beat-up blanket.  We were waiting for the traffic to clear and, seeing me looking at him he moved slightly in our direction he said something (I couldn't hear his words) and rubbed his fingers together.  He was asking for money, of course.  Sadly, my knee-jerk reaction has become to simply shake my head no most of the time and that is how I reacted in the moment.  He looked so disappointed.  It was then that the Spirit nudged me and I realized that I had to do more than drive away this time.  The traffic still hadn't yet cleared, so I grabbed my wallet to see if I had a five in there.  Nope.  I had a ten.  I had to work fast because there were cars behind me and I needed to pull out into the street, but I rolled down the window, hollered at the guy, and when he came over I broke my "no money" rule and handed him the ten-dollar bill.  Then we drove off in our warm, dry car.  All this transpired in less than two minutes.
My heart is still broken for that man.  When he came over to the car to get the bill, his face looked like he had either taken a bad fall that banged up and scabbed up his face, or he was beaten.  Most likely the latter.  He thanked me but was almost crying.  I've been praying for him ever since.  Could I have done more for him?  Probably not, given the time and circumstances, but my heart does, indeed, break for this lost and homeless man.  As does God's heart.  You see, God has been walking beside that man through all the deep trials of his life.  He was there when the homelessness first happened.  God was with him when his face was, somehow, injured.  Our Lord felt that man's pain and, when opportunity presented, nudged me to give him that ten-dollar bill.  Honestly, there wasn't much love expressed by me.  It's not like it cost me anything or even made me feel uncomfortable.  But, it was an expression of God's love toward him and that kind of love is effective and healing and maybe, just maybe, it served to move him toward Christ and healing and wholeness.  I hope so.  In fact, I know so, because nothing that God does ever fails in its purpose.  
******
God Bless!