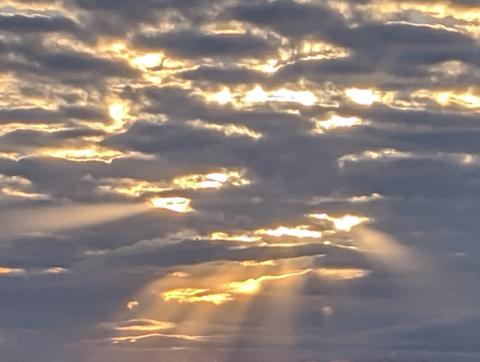 In truth, I've been procrastinating and putting off writing this post.  Why?  Because I utterly fail when it comes to fasting.  It follows that fasting is a topic I shouldn't be trying to teach about.  I told God my thoughts and had basically decided to just drop this series, but yesterday the Lord prompted me rather strongly to get with the program.  So, here goes.  In spite of my failures, I do have some decent insight to offer concerning this practice.
******
Using a Fast to Go Deeper with God
This kind goeth not out but by prayer and fasting.
Matthew 17:21
Most Christians, when we find ourselves seeking to go deeper with God, think first about the practice of fasting.  It's almost a knee-jerk kind of thinking, but we go that direction because that's what we see modeled for us by the heroes of the Bible.  Those guys knew how to seek God and it makes sense for us to copy them.  The Bible teaches very clearly that we should practice fasting and Jesus Himself pointed to it as a way to reach God, appropriate His power, and deepen our relationship with Him.  The disconnect for most of us, and here I am speaking to myself as much as to my readers, is that we view it in religious terms.  We have it wrapped up in religious-looking paper and think that if we skip a few meals God is sure to hear us and respond favorably to our requests.  Then we wonder why our prayers don't get answered.  What has happened is that somehow or other we have gotten ourselves stuck in a pothole of stinky, smelly, religious muck.
    You see, God isn't impressed with religious activity.  It isn't religion that He wants, it is relationship.  That statement I just made goes right back to the very foundation of Christianity.  All men need salvation and salvation is defined as the restoration of our relationship with God.  Our sins have separated us from God (Isaiah 59:2) and broken our relationship with Him.  Jesus provided a way, through His death and resurrection, for that relationship to be restored and now every true, born-again Christian can confidently walk into the very presence of God whenever he or she pleases (Heb 10:19).  God always welcomes us whenever we come to Him.  When we find ourselves unable to break through into His grace, the issue isn't in Him, it's in us.  Either we've layered a bunch of religious wrappings around our lives that prevent us from reaching Him, or we've allowed sinfulness and fleshly living to get in the way, or – and here's the biggie – we simply have yet to lay ourselves aside so that we can see His heart.  That last point is where fasting comes in.  
    Fasting isn't a "more effective form of prayer".  In order to get the point of that statement, you will need to spend some time considering a couple of things Jesus said.  First, consider Luke 9:23: 
If anyone desires to come after Me, let him deny himself, and take up his cross daily, and follow Me.
As Christians, when we look at the cross we see a symbol of hope and salvation.  The people Jesus was talking to when He spoke those words saw the cross as an instrument of excruciatingly painful death.  Jesus was saying that if we want to follow Him, we have to go through the painful and difficult process of denying our fleshly selves.  Every day.  It also will aid your understanding if you couple those words quoted above with what Jesus said in Matthew 16:25: 
For whoever desires to save his life will lose it, but whoever loses his life for My sake will find it.
Every Christian, every person who has committed his or her life to Christ, is called to set aside personal goals, ambitions, and desires to follow the lead of the Lord.  That's what it means to deny yourself.  God calls us to place His goals, plans, and desires for us in the forefront of how we live our lives.  We are to let go of our lives and, instead directing our efforts toward maintaining the good life we've built so far, embrace the goals and purposes He has for us and let Him map our lives and direct our steps.  We must intentionally lose our lives and in the process find the lives that He has made for us.
    That's not an easy assignment and, while it's not the magic solution to make it all happen easy, fasting can help you as you address this aspect of your walk with God.  Let me explain myself.  If you stop eating you will die after somewhere between 43 and 70 days.  Think about it now – if you do a complete fast of food, you are literally putting your flesh to death.  Stop eating and that's what you are really doing.  You are putting your body to death.  Stay at it long enough and you will actually die.  To get to what I'm trying to say here I have a Bible study assignment you can take a few minutes to work on.  On your favorite Bible search website (I just used biblegateway.com and it did a good job), do a search for every occurrence of the word "flesh" in the New Testament.  Use the NKJV translation to maintain consistency with the concept I'm trying to get across.  Read through the list of verses.  How is the word "flesh" used by the men whom God inspired to write the scriptures?  Does it only refer to the physical body or are they also using it to refer to a different concept?  
    Go ahead, it won't take you very long.  Then you can come back here and finish reading this post.
………………
………………
………………
………………
………………
………………
………………
    After reading through that long, long list, you likely see that the writers of the New Testament scriptures used the word "flesh" in two different ways.  First, of course, it simply is a way to refer to our physical existence in this world.  But the usage goes beyond that.  The word "flesh" points to our base, sinful nature.  It connects this fallen and dying body we live in with the fallen and dead sinful nature we all carry.  Here are a few verses that make my point:  
Romans 7:5
For when we were in the flesh, the sinful passions which were aroused by the law were at work in our members to bear fruit to death.
Romans 7:18
For I know that in me (that is, in my flesh) nothing good dwells; for to will is present with me, but how to perform what is good I do not find.
Romans 8:1
There is therefore now no condemnation to those who are in Christ Jesus, who do not walk according to the flesh, but according to the Spirit.
Romans 8:9
But you are not in the flesh but in the Spirit, if indeed the Spirit of God dwells in you.
Galatians 5:16-17
I say then: Walk in the Spirit, and you shall not fulfill the lust of the flesh. For the flesh lusts against the Spirit, and the Spirit against the flesh; and these are contrary to one another so that you do not do the things that you wish.
You see, when we fast, we are putting our physical bodies (flesh) to death in a literal sense, and, in that process we are also putting our fallen natures (our sinful flesh) to death.  We are denying ourselves, taking up our crosses (by suffering hunger and need), and following Jesus.  We are losing our lives so that we can find our lives in Him.  
    And that is why I said fasting is not some kind of more effective prayer.  Instead, fasting is a tool we can use to deny the indulgences we fill our lives with.  It helps us purify our souls so that we can hear Him more clearly and if we hear Him more clearly, then our prayers and our faith will also be more pure and more effective.
    There is a lot more that can be said about fasting, but ponder what I've said here and see what the Spirit says to you.  My hope is that you will find fasting to be a tool that will help you deepen your walk with our Lord and get to know Him better.  
    There's another tool the Lord has given us and that's the topic of my next post in this series.
    God bless!