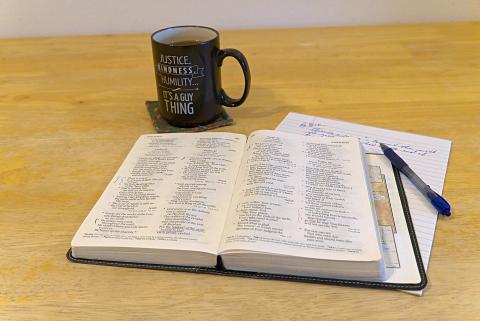 Today we're going to discuss our second foundational principle for Bible study.
Principle 2: We interpret the scriptures according to the revelation of the Holy Spirit as He reveals to us the meaning, heart, and life He wrote into it.
Our second foundational principle for Bible study deals with listening to the Holy Spirit and letting Him reveal its meaning/application to us. The best way to understand how the Holy Spirit works in our lives is, perhaps, to see how He worked in the men of the New Testament. Take, for instance, the Apostle Paul. Early on in his ministry, during his second missionary journey, he and the men traveling with him were passing through the area that is now north-central Turkey. He wanted to take the group south into what was then the Roman province of Asia. Ephesus was the major city in that province. The Holy Spirit prevented them from going in that direction. Then they tried to go north to preach to the people living up that direction, but again the Holy Spirit said, "No!" Acts 16:6-7 tells the story this way:
Now when they had gone through Phrygia and the region of Galatia, they were forbidden by the Holy Spirit to preach the word in Asia [to their south]. After they had come to Mysia, they tried to go into Bithynia [to their north], but the Spirit did not permit them.
Instead, the Lord took them to Macedonia (the northern part of the Greek peninsula) where Paul planted several churches. Later he stopped in Ephesus very briefly and even though the people there asked him to stay and teach them more about Jesus, he didn't stay. Why? Well, the Holy Spirit was leading him elsewhere. Finally, while on yet another missionary journey, he made it to Ephesus again, this time to stay awhile. Shortly after arriving in town, he (providentially) ran into a group of believers who knew about Christ through John the Baptist's testimony, but really didn't know much else about Him. The first thing Paul asked them was, "Have you received the Holy Spirit?" Here's a quote:
Finding some disciples he said to them, "Did you receive the Holy Spirit when you believed?" Acts 19:1 NKJV
Paul, on meeting these fellow believers, made a point of ensuring that they had access to the Holy Spirit working in their lives. To him, that single issue was more important than anything else he could talk to them about.
As you read through the New Testament, you will see an endlessly repeated emphasis on the need for God's people to be fully reliant on the Holy Spirit in every aspect of their lives. Like Paul, we are to rely on Him for guidance and we are to depend on Him to help us discern between spirits. We are to keep our eyes on spiritual realities, rather than focusing on the temporary, often wicked conditions that surround us in this world. We are to "walk in the Spirit" (Gal 5:16). And......when it comes to interpreting scripture, we are to let Him direct our thoughts. Here, again, is that verse I told you I'd be quoting a lot as we move through this series of lessons:
No prophecy of Scripture is of any private interpretation, for prophecy never came by the will of man, but holy men of God spoke as they were moved by the Holy Spirit.              2 Peter 1:20-21
If the men who wrote the scripture had to rely on the Holy Spirit as they wrote, it's pretty easy to see why we have to rely on the Holy Spirit as we seek to understand and apply the words they wrote. Jesus Himself had some things to say about how we need to always rely on the Holy Spirit.
These things I have spoken to you while being present with you. But the Helper, the Holy Spirit, whom the Father will send in My name, He will teach you all things, and bring to your remembrance all things that I said to you.           John 14:25-26
If you read those words in context you see that they are part of one of the most beautiful passages of scripture in the Bible. Jesus expresses His heart for us. "Peace I leave with you"... "Do not let your heart be troubled"... Our Lord Jesus, the One who died for us, is expressing His heart for us, His disciples. His desire is that we should have peace, even in the midst of the turmoil of the world. When the world tells us all is lost, when all our hopes and dreams have turned to ashes, in Him we find peace and hope and even joy.
This discussion is providing us with a great example that demonstrates our need to let the Holy Spirit guide us as we study His word. Hearing His heart is the key to interpreting scripture and we can only hear His heart if we listen to the Holy Spirit. He Himself has to share His heart with us. So, how does one do that? How do you "hear" the heart of God speaking to you? Well, you just need to slip into the spirit.
"Slip into the spirit?" What does that mean? Well, the truth is that we need an open conduit to God that allows us to interact with Him on a non-stop basis. There is a moment in every Christian's life when he or she made the choice to follow Christ. While some people, especially those who have a background in liturgical Christianity, sort of grow into true faith in the Lord and might have trouble clearly defining that moment of salvation, that moment of stepping into faith is there, defined or not. Immediately, when faith kindled in your heart, the Holy Spirit entered into you, breathed life into your withered, dried up spirit, and made you new. You were born again into eternal life. That's the place the twelve disciples were when they stood on the hill, watching Jesus ascend into heaven. They were born again. Eternal life was theirs. They had spent the last three years being taught by Jesus so they were well-educated in the things of the Kingdom of God. Yet they lacked that open conduit we spoke of earlier. While Jesus was with them He was their source of knowledge, guidance, and understanding. Now He was no longer present with them. Yet the Lord had prepared ahead of time to solve that problem. Here's what He told them:
Being assembled together with them, He commanded them not to depart from Jerusalem, but to wait for the Promise of the Father, "which," He said, "you have heard from Me; for John truly baptized with water, but you shall be baptized with the Holy Spirit not many days from now." Acts 1:4-5
The disciples did just that. (Read Acts Chapters 1 & 2 for the full story.) They waited in Jerusalem and ten days later, on the day of Pentecost, the Holy Spirit fell on them and the conduit was opened. They were baptized in the Holy Spirit, spoke in tongues and the church of Christ was born. That same thing needs to happen in the life of every believer. Every believer needs to have that open conduit between the Lord and him/herself so that he/she can simply slip into the spirit/Spirit whenever it is needed.
Rather than try to cover this topic in-depth, I'm going to refer you to a book I wrote that covers this topic very well. If you are a new Christian, taking this step into the fullness of the Holy Spirit is a necessary next step for you. This book deals both with the Baptism of the Holy Spirit described in the scripture quoted above, and the strange and bizarre gift of tongues that often accompanies it. It should help you better understand this feature of the Christian life. Here's a link to it on Amazon:
The Gift of Tongues:  A Tool in the Hand of God

I hope you'll read it and choose to take that important step.