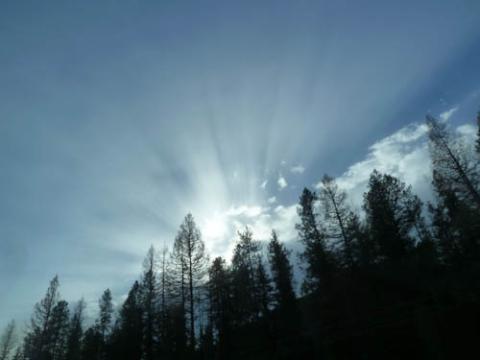 I found it deeply disheartening last January when Joe Biden took office and moved into the White House.  America has fallen, once again, to the rule of those opposed to Christ, to those opposed to all that is good.  Most serious Christians are deeply disappointed in the outcome of the elections and in the man who now sits in the White House.  Since then it has been especially difficult to watch the President and the Democrats in Congress systematically destroy freedom in America, establish unrighteous laws and policies, and squander our taxes.  They seem to be especially zealous in their disregard and contempt for people of faith, especially Christians.  So, it is appropriate for us to ask the question, "What do we do now?"  Rather we should ask it this way:  "What is God doing and how do these events work into His plan?"  That question needs to be followed by "What is my part in that plan of His?"

The first action we should take, of course, is to live out the admonition of 1 Tim 2:1-2, "First of all, then, I urge that petitions, prayers, intercessions, and thanksgivings be made for everyone, for kings and all those who are in authority…."  That means that our first order of business is to pray for Mr. Biden, as repugnant as his politics and sinful ways may be to us.  The hard part is that we must lift him up to God without infusing our prayers with condemnation.  I find that especially difficult and it often stops me from praying for the President at all.  Still, pray we must and we can begin by praying for his repentance and salvation.  (Do the same for the Vice President and other leaders.)  Pray that God will clearly reveal to him the righteous way and that he will yield himself to making decisions and leading this nation according to God's choices and God's ways.  Seek God for peace to rule in his family relationships.  In other words, pray good down on Mr. Biden and his administration.  By doing this we will be following Jesus' admonition that we should love our enemies.  God will answer our prayers and Mr. Biden will know the right way.  Whether or not he chooses to follow that leading is another thing.  We can leave to God the consequences for his bad choices and, believe me, God will deal with it – in His own way and in His own timing.  While we are praying, we also need to remember that God's timing and ways do not match up with ours.  We cannot let ourselves try to force God into the box of what we think He should do.  He doesn't respond to that kind of thing.

Our second action should be to get prepared.  We American Christians have, in large measure, lost our focus.  We have been far too distracted by our desire to see America and America's Christian heritage preserved and restored.  God has a plan and we are in danger of missing out on our part in that plan.  Don't get me wrong.  I'm not giving up on my desire to see America fixed and I seek God for Him to make that restoration real, but when I look at the times and the prophecies of the Bible, I'm not sure I see a restored America fitting in.  Remember, Jesus rebuked the Pharisees because they failed to discern the times.  Here's how He put it in Matt 16:2-3,
When evening comes you say, 'It will be good weather because the sky is red.' And in the morning, 'Today will be stormy because the sky is red and threatening.' You know how to read the appearance of the sky, but you can't read the signs of the times.
The Pharisees and religious leaders of Israel should have clearly seen that they were living in the time when the Messiah was to come to them.  Later, in Matt 24:33, He tells His disciple and us, "...when you see all these things, recognize  that He  is near—at the door!"  We must discern the times!  Just as when we see that the sky is red we know that storms are coming, when we look at the signs of our times we should know that the time of His return is near.  We must make ourselves ready.

When one sets himself to study out end times prophecy, there are multiple frameworks that theologians use to try to make sense of what the Bible says.  You will hear terms like premillennial, postmillennial, and amillennial when discussing the timing and character of Christ's millennial reign.  When interpreting the book of Revelation (and other prophetic passages) you hear words like preterist, historicist, futurist, and idealist.  Each camp has its adherents and zealots and they will argue their points vociferously, but one thing most of them agree on is that, when it comes to the end of the end times, the Bible tells us that there will be a massive increase in the persecution of the saints, lawlessness, and violence will multiply, and great disasters will occur.  

So, saint of God, are you ready?  

One Sunday morning way back in the spring of 1988 when our children were small, we were leaving the church after the service finished and found that someone had placed a small pamphlet on every windshield in the parking lot.  The claim of the pamphlet was that Jesus was going to return in late September of that year during the Jewish celebration of Rosh Hashanah.  Well, I knew better than to take such a claim seriously.  After all, Jesus said that no one would know the "day or hour" when His return would happen (Mark 13:32).  Still, I was curious about what the pamphlet writers had to say, so looked through it some.  They had some good logic about pointing to the Rosh Hashanah holiday for the Lord's return, although I saw nothing that would let them turn it into the absolute time point they were claiming.  I eventually tossed the pamphlet into the trash, but not before it forced me to address the question, "What if they are right?".  Was I ready?  Was my family ready?  In truth, I didn't agonize over that question even a little bit, because the answer was, "Yes".  My faith in Christ was strong, as was my wife's faith.  My young children fell under His grace.  We lived righteous lives (not sinless, but rather we didn't practice sin) and sought to serve Him in everything we did.  We were ready, even when it came to most of my extended family.  Most of my brothers also sought to live lives that were focused on Christ.  So, honestly, I wasn't concerned about the "What if they are right?" question.

Can you, saint of God, say the same?  If not, you should take steps to get ready.

Jesus' words that no one can point to the exact time of His return are true, but He also admonished us to know our times and I am becoming more and more strongly convinced that the time of Jesus' second advent is very, very, close.  I could be wrong.  It could be that we still have decades left before He comes, but, to be honest, I don't believe it.  What I believe is that the sky is "red and threatening."  What I believe is that, in anticipation, the Father and the Son have leaned forward and scooted to the edge of Heaven's throne.  The angels have come to attention.  The seventh seal is about to be broken and the final trumpet is about to sound.  Our redemption draweth nigh.