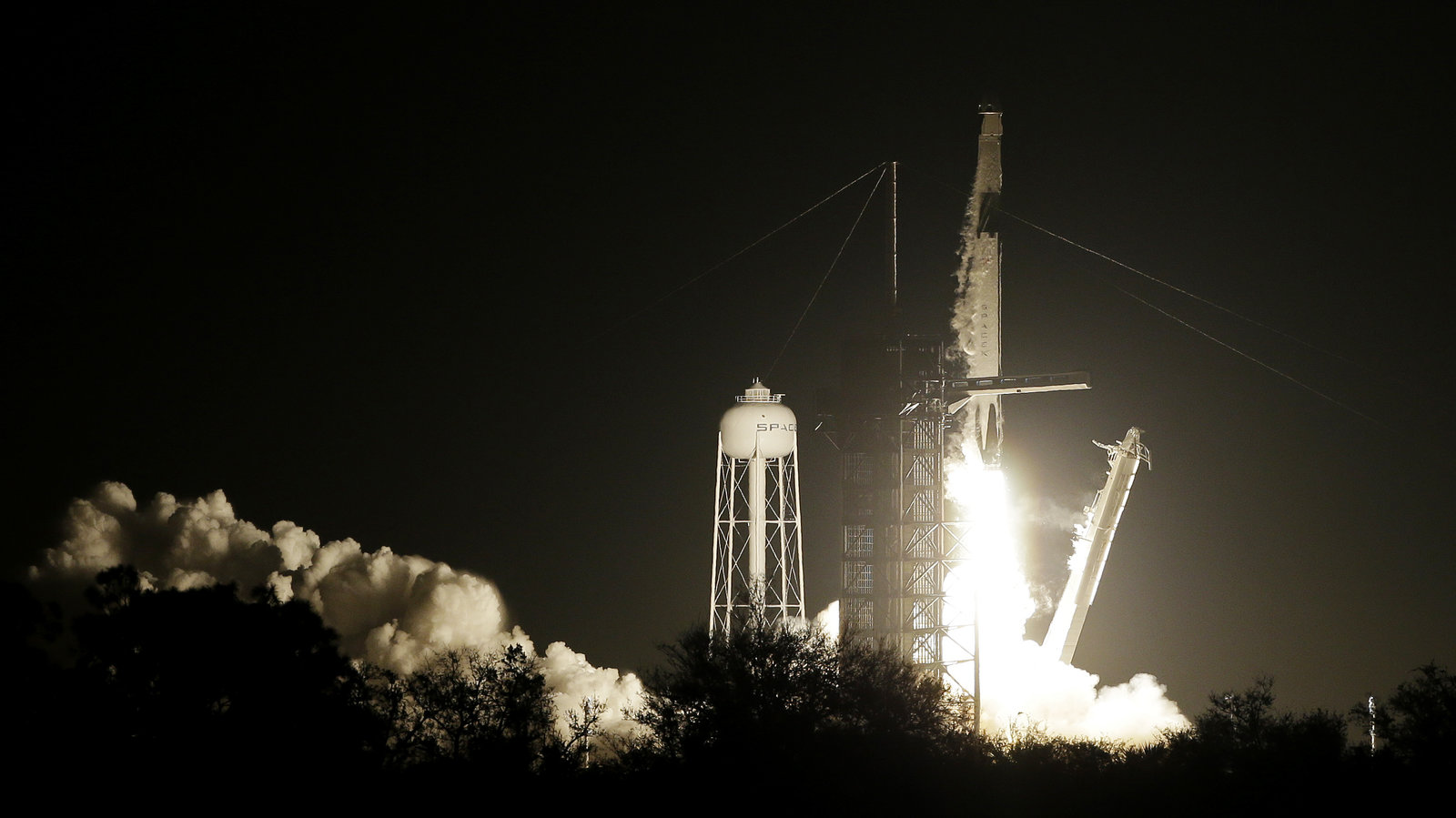 Space X Falcon 9 rocket with Dragon crew capsule.
So, here is something kind of off-track from my usual posts.  My wife, sons and I use a little program called Discord to chat back and forth, keeping up with the latest in our respective families.  (Discord was developed and is targeted at gamers and is very good at what it does.  It's also a very good and easy to use communication program and I highly recommend it.)  My oldest son (currently residing in Canada) posted a link to the launch of the latest test of the NASA/Space X crew transport rocket/capsule.  It was really cool to watch and a true accomplishment for America's space industry.  Here is a copy of our (slightly edited) Discord dialog:  (Just so you know, my son's Discord pseudonym is "the fuzzyhubby".  In truth, it fits!  :>)
***
thefuzzyhubby
So cool! We skipped ahead to the count down.
That is a great accomplishment for the space exploration.  What did you think?  Isn't that awesome?
Me
Reminds me of watching the Mercury launches.  We all gathered around our little black and white TV for every one of them.
 Really big deal that they landed the first stage -- upright no less!  So, what about the second stage?  I'm assuming it's a throw-away part?
thefuzzyhubby
We haven't read anything about that one. I think that they can reuse it is a great achievement
My wife Ruth
Yes, that was awesome! And I also remember watching the rockets launch and counting down with the announcer! It was also really cool to watch the capsules parachute into the ocean and then the astronaut would be picked up by a Navy (?) ship.
thefuzzyhubby
I really like that this is basically the beginnings of the space program for this generation.  I hope this breathes life into space exploration
Me
I've always been a space exploration enthusiast and love to think in terms of planetary colonization, but I wonder if that really fits into God's scheme of things.  Think about it...the human body is perfectly designed to operate in a 1-g environment.  We already know that spending too long in 0-g does bad things to us.  What will happen to the bodies of people spending years in the .38-g of Mars?  Probably lots of bad things.  I suspect that our dreams of solar system spanning human colonies is just that -- a dream.
And that's just talking about gravity.  What about radiation?  No other planet in the system has the radiation protection that Earth does.  Without Earth's magnetic field and the Van Allen belts, Earth's surface would be radioactive waste.  Space colonies would require special protective habitats and that just isn't sustainable on any scale larger than a research station.
Still, research stations may be worth it.  Every piece of new science learned provides us with insight into how God works and how He designed this universe and so enhances our goal of knowing Him (Philippians 3:10).
thefuzzyhubby
Resources are the biggest driving force.  If a viable way of mining is actually created, it would make space exploration worth it.  Getting there would be the long road
Me
The keyword is "viable".  What mineral could possibly be valuable enough and in such short supply that we would need to mine space rocks and other planets to get it?  Resources here on Earth would have to be far more scarce than our current supplies for space mining to be viable.  I wonder, have the space industry companies put any numbers to whether or not space mining is economically feasible?  I remember reading about one startup that was targeted at developing asteroid mines.  I'd like to see their business plan!   :>)
***
I really do remember the Mercury rockets – and the Gemini's and the Saturn V's.  Watching them launch, seeing Neil Armstrong step onto the Moon and dreaming about what might be out there in space shaped me and contributed to who I am today.  As a teenager I built and flew model rockets.  I still have some of those rockets packed away in a box somewhere.  Someday I'm going to get them out, do some repairs, give them a new paint job and, along with a certain grandson I know, launch them into the sky!  Maybe he'll start dreaming, too…!